Sep 9, 2019
Off the Hook Yacht Sales at the Newport Boat Show 2019
The Newport Boat Show is here!! This weekend Thursday, September 12 – Sunday, September 15, 2019 located at Newport Yachting Center. The location of the show encompasses thirteen acres of Newport's downtown waterfront in Rhode Island which means there are a lot of boats to see! Show hours are Thursday – Saturday 10am – 6pm and Sunday from 10am – 5pm.  The Newport Boat show has been putting on this event for 48 years with the intention to cater to its boat enthusiast population in the coastal area. Many participants say this is one of the best boat shows to attend because of the location, historic attractions, and the amount of new boats they have on display. Over 300 new boats are signed up to be at the show plus many engine, electronics, and boat accessory vendors. Some of the brand names that will be there are Hickley, Zeelander, and Prestige Boats.
This year we will be displaying two Nor-Tech boats, a 2019 Nor-Tech 340 Sport and a 2019 Nor-Tech 390 Sport located in-water at Dock S-1. If you love luxury and speed, these boats are for you!
2019 NOR-TECH 340 SPORT
"Rough seas have nothing on the Nor-tech 340 Sport. The 340 Sport is ready to up your game on the water. Forwards and aft seating is ideal for family outings or socializing. Everyone stays dry regardless of your motor power. Maintain a smooth plane at low speeds and feel like a pro as you entrancingly carve through the water."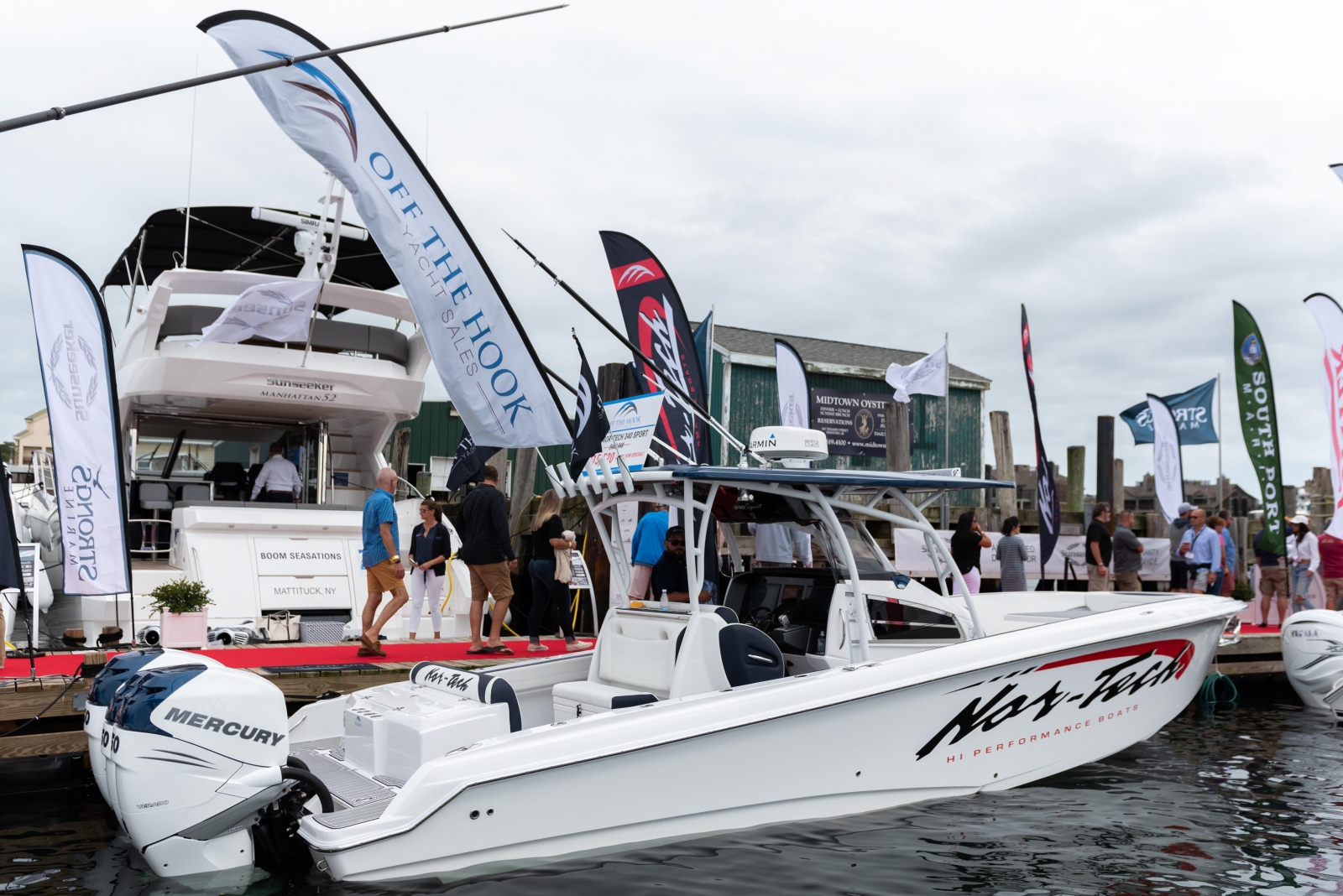 Check out the full listing here!
2019 NOR-TECH 390 SPORT
"The Nor-Tech 390 Sport is all about speed, without leaving style, fish- and dive-ability, and luxury in the dust. The 390 delivers incredible power while planing at near single-digit speeds. Nail the throttles and hit top speed in seconds."
We are so excited to attend the show and hope to see you there! If you are interested in sea-trialing either Nor-Tech please call us at 910-239-9344 so we can arrange a time. Click here for ticket prices, parking, and all other details about the show!
Don't forget we are your local Nor-Tech dealer. Call us today to build the boat of your dreams! Below are some pictures from the 2019 Newport Boat Show!