Nor-Tech Hi-Performance Boats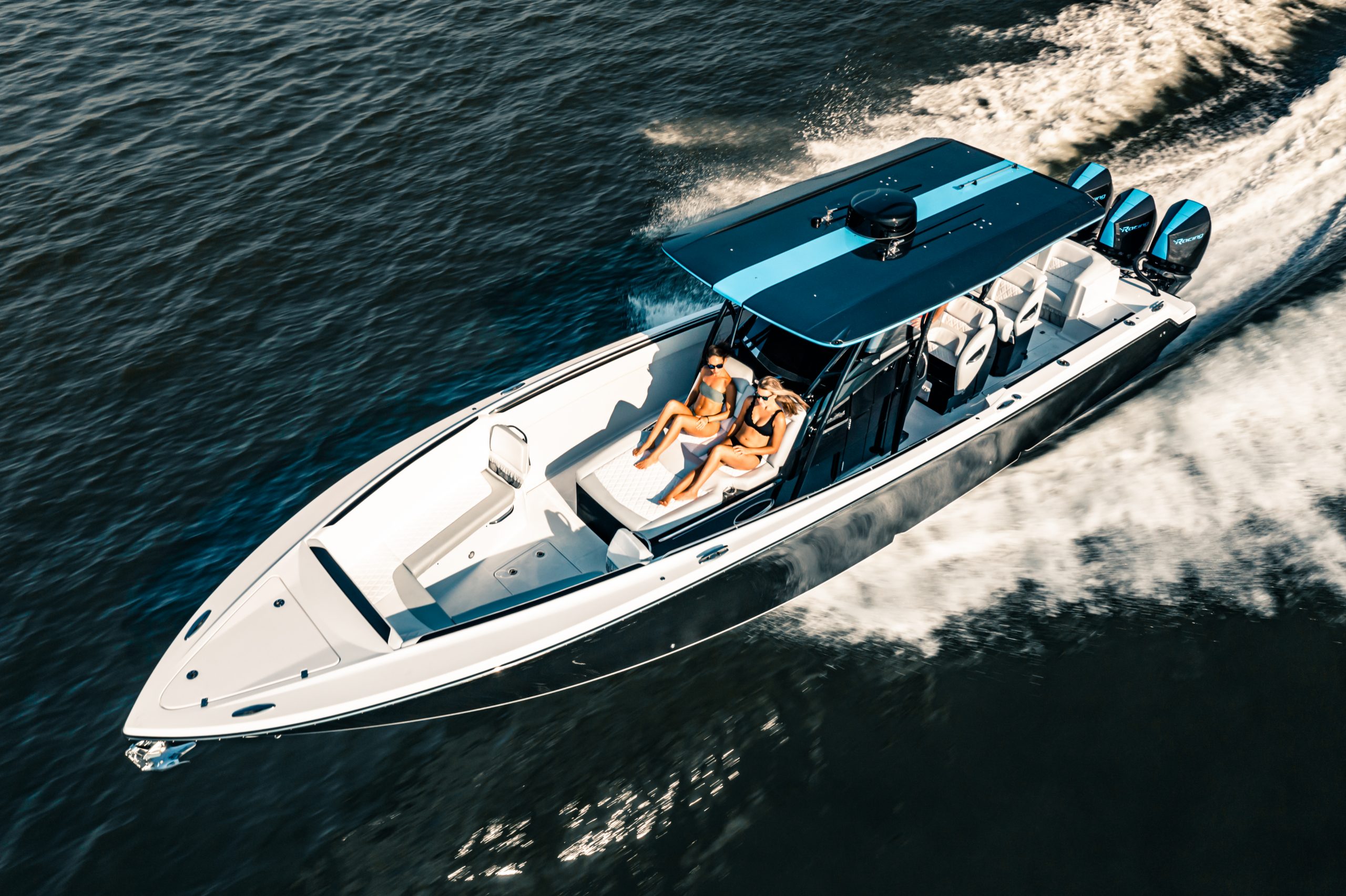 Your Nor-tech Hi-Performance Dealer!
Off the Hook Yachts is your Nor-Tech Hi-Performance Boat dealer in the Mid-Atlantic region. We service from Georgia to Maine. Building a new Nor-Tech Boat is simple when working with Off the Hook. Our Nor-Tech Specialists have been in the boating industry for years and understand the importance of customer service and reliability. Nor-Tech dealers sell a range of powerboats including center consoles, day yachts, and fishing boats. Center Console Nor-Techs include models 340 Center Console, 390 Center Console, 450 Center Consoles, and 550/560 Center Consoles. Day yacht Nor-Techs include models 360 Monte Carlo Flyer and 420 Monte Carlo Flyer. Fishing boats Nor-Techs include models 392 Superfish and 452 Superfish. Click below for more details about Nor-Tech Hi-Performance boat models. If building a new Nor-Tech does not interest you, we also sell used Nor-Tech powerboats of all models. Check out our used Nor-Tech inventory here.
For almost 30 years, Nor-Tech Hi-Performance Boats has been building vessels with unrivaled craftsmanship. Nor-Tech takes pride in taking the time to make sure every stage of the boat-building process is done exceptionally well. Every detail has our full attention. The result is a top-notch, custom vessel that will provide owners and their guests with a luxurious Nor-Tech lifestyle. The gold standard is the Nor-Tech standard.
Nor-Tech engineers and designs each boat in its fleet in-house. Whether they are working on a brand new model or an upgrade to an existing model, the process is extensive. Nor-Tech goes well beyond the industry standards ... and we have our own style to incorporate that everyone has come to expect. They also welcome owner feedback to inspire our new and exciting designs.
The open-molding process we use is a traditional technique that keeps the art of boat building alive, without the use of any water-absorbing wood. Each Nor-Tech Hi-Performance boat is born from the same handcrafted mold as those built before it. Its unique transformation process continues throughout the creative building phase. As the trigger is pulled on the gel-coat gun and the first spray hits the newly waxed mold, a Nor-Tech vessel comes to life. In the Lamination Shop during a 90-day craftsmanship process, woven fiberglass sheets are carefully layered in the mold. High-density foam is added for rigidity, and Kevlar and carbon fiber are interlaced into the fiberglass. Our expert boat builders now reinforce the transom, encapsulate the composite stringers in fiberglass, use shoebox joinery to place the deck on the cockpit sole and hull, and cut a space for the anchor. These are all the first steps to building your vessel's powerful core strength.
You won't find any wood at Carpentry Shop, Nor-Techs are 100 percent marine-grade composite to handcraft the backing for seats, panels, doors, and lids. Our carpenters are true craftsmen, creating and perfecting custom pieces every day for each unique Nor-Tech Hi-Performance boat.
Highly skilled upholstery artisans craft each cushion by hand, stitch by stitch, in our on-site Upholstery Shop. New boat owners can choose the perfect upholstery for them, among the limitless options. Everything can match, from the cushions and pillows to the mattress covers and couches. Marine-grade fabrics stand up to the sun, water, and chemicals, while also adding an individual style. Want diamond tufts? Inlays? All in a favorite color? Nor-Tech's experienced team is ready to make it happen. In the Upholstery Shop, knots don't refer to speed. Here, time is deliberately taken to ensure knots are pulled without puckering. The possibilities are endless.
The personality of your custom Nor-Tech Hi-Performance Boat starts to shine through when the first spray of color hits the hull. At this point, the boat's name has been gifted, the paint color chosen from the infinite options, and the hull-side design created.

The vessel now enters one of our three state-of-the-art downdraft painting booths, where Nor-Tech's expert painter of 23 years personally takes it under his wings. Spraying is done by hand, continuously swaying fore-and-aft. All lines are meticulously hand-pulled. There's no question: The spotlight is all on your new vessel. LED lights line the paint booth walls and ceilings for proper color matching, consistency, and perfection. The boat will have the eye-pop of color, maybe even some special effects. It also will have maximum protection against corrosion. By taking care to paint your vessel with high-tech automotive PPG, we are preparing it for an exciting life on the water: smooth seas, rough seas, sunshine, docking, sea creatures, a myriad of activities. And hi-performance.
Every Nor-Tech Hi-Performance Boat has a sea trial before the keys are handed over to its new owner. Each vessel goes through a rigorous series of quality tests, making sure every system from the Mercury motor and Garmin navigation electronics to the depth sounder and running gear are working properly. We plane at low speeds. We go full throttle. After spending time going down an exhaustive checklist and the vessel comes ashore, there are a few final details. The boat is detailed and the hardware is polished until everything shines. The boat will have the eye-pop of color, maybe even some special effects. It also will have maximum protection against corrosion. At Nor-Tech, it's all about those details.
Models