Jul 19, 2016
Which Boat is Right for me: Bowriders
Which boat is right for me? Welcome to Part 2 of our series where we discuss different boat types. In this blog, we discuss Bowriders. Buying a boat can be a daunting experience, but luckily we are experts! Enjoy this next installment and as always, let us know if you have any questions. We are here to help.
Bowriders
Do you enjoy cruising, wakeboarding, or a casual day at the sandbar? While typically seen like a lake boat, bowriders have been taking over all bodies of water over the past few years. The most common models feature an inboard/outboard engine,  however, outboards on bowriders are becoming more common in North Carolina and other saltwater locations.
Main benefits of Bowriders:
Built for cruising

Plenty of seating

Great for towing tubes, skiers, etc.
Bowriders will generally have ample forward seating, a forward ladder for easy access onto a sandbar, and either a hardtop (arch) or a Bimini System. As mentioned, inboard/outboard engines are the most popular model found on bowriders. They create larger wakes and allow for a large swim platform. However, outboards are becoming popular and many saltwater owners are switching over.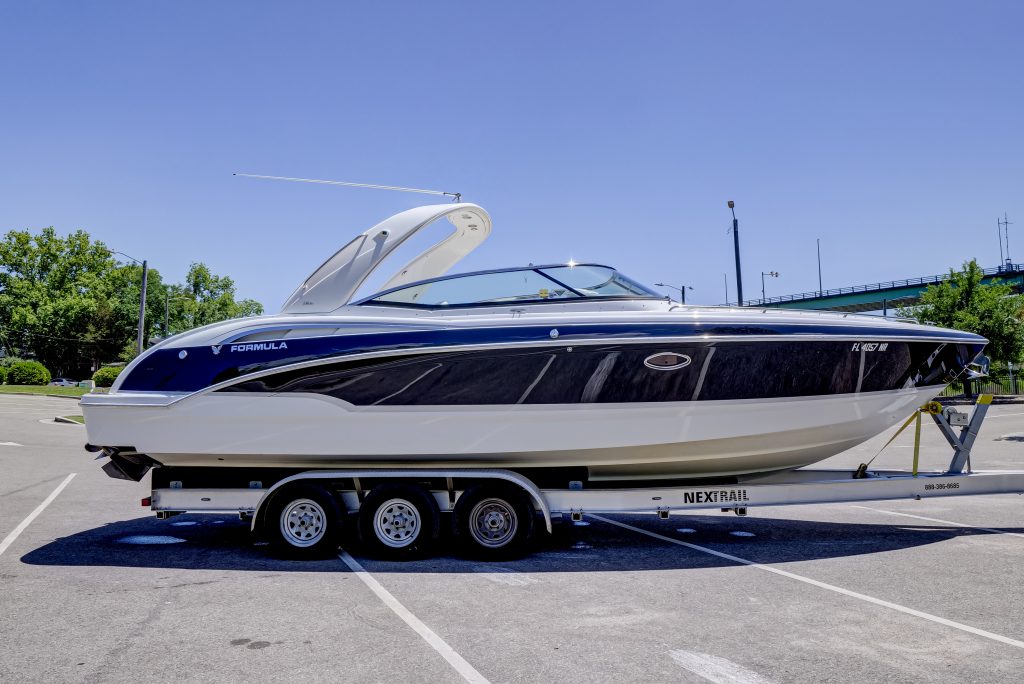 Bowrider Sizes
16-19 ' First and Family
These are perfect boats for the weekend warrior who plans to take a few friends out on the lake or cruise the waterway. While there are a few outboard models available such as Sea Ray's 19SPX, typically boats of this size have I/O's. Bowriders this size are easily trailer-able, easy to park and make a great first family boat. Popular makes include Sea Ray, Regal, and Bayliner.
20-28 Family and Friends
Wakeboard enthusiast? Want to spend a full day out on the water while towing a friend on a tube? Meet the most common, and popular, size bowrider. Perfect for towing, and forgetting to that secret sandbar, boats in this range are numerous in make and models.
This is also the range where boats start to include extra storage, ahead, and extended swim platforms. Seating capacity can jump to 12 or higher and wakeboard towers and more luxury items become available.
28-35+ Luxury and Cruising
The larger bowriders are great for inviting everyone out for a day on the lake! Many include shore-power, generators, joystick controls,  full heads, wakeboard towers, swim platforms, full electronics, and more options than you can imagine. A few names that inhabit this range are Regal, Sea Ray, and Formula. Almost every boat in this category will feature inboard/outboards or strictly inboard engines and require a skilled hand at the helm.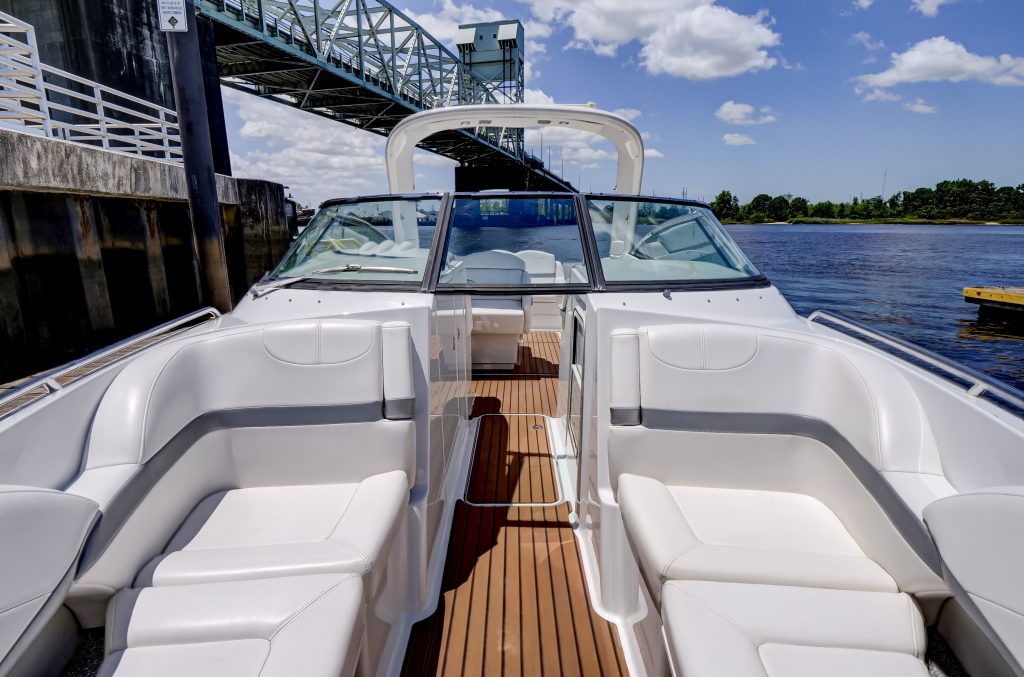 Bowrider vs Dedicated Wakeboard/Ski Boats
We do need to address the difference between more family-friendly ski boats, and dedicated sport boats. Brand such as Mastercraft and Nautique is known for boats that feature high-end stereo systems, wake surfing options, ballasts, and other ways to create the largest wake possible. These can be customized to an owner's content and are what professional wakeboarders utilize during competition. If you, or someone in your family, are an avid wakeboarder, this may be the best route!
Choosing the right Bowrider size 
Deciding on the right size bowrider will heavily depend on how many people you plan to bring and how you will be storing the boat. With most bowriders having inboard/outboards, leaving them in the saltwater can be corrosive to the engine and it is highly recommended to invest in dry storage, a lift, or trailering out after each use.
For a first-time boater, it is recommended to stick to a mid-size bowrider and work your way up as you become more comfortable at the wheel. Regardless of what you choose…be sure to enjoy and have an awesome time on the water!
Need help finding a used Bowrider?
We come across thousands of boats a week and are experts at helping our clients narrow down that perfect boat. Please leave a comment, message us on Facebook, email, or call with any questions you may have and we will get back to you ASAP. 910-239-9344 | info@offthehookys.com.
Interested in another boat type like Center Consoles? Check out the advantages and disadvantages of Center Console Boats!