Sep 11, 2020
The Water Evacuations of 9/11
Nineteen years ago, tragedy struck Manhattan, surrounding cities, and the entire United States. Almost 3,000 lives were lost during the 9/11 attacks. This number includes civilians, workers, paramedics, police officers, and firefighters. A historic piece of 9/11 that many people have not been made aware of is the fact that the Coast Guard and many boaters helped save hundreds of thousands of lives on this day. In fact, 9/11 remains the largest water evacuation in world history. Most of the information in this post was collected from Boatlift, a short Youtube documentary directed by Tom Hanks about the water evacuations on 9/11. If you have a few minutes to watch it, we strongly recommend it.
When the towers were hit, many people ran away from the buildings and south towards the edge of the water. Once they had made it to this destination they came to the overwhelming realization that Manhattan is in fact an island, and they were trapped. Thousands of people felt helpless, scared, and unsure of what their fate was going to be. Every mode of transportation out of Manhattan was shut down, including subways and bridges. For the first time in years, waterways were the only way in or out of Manhattan.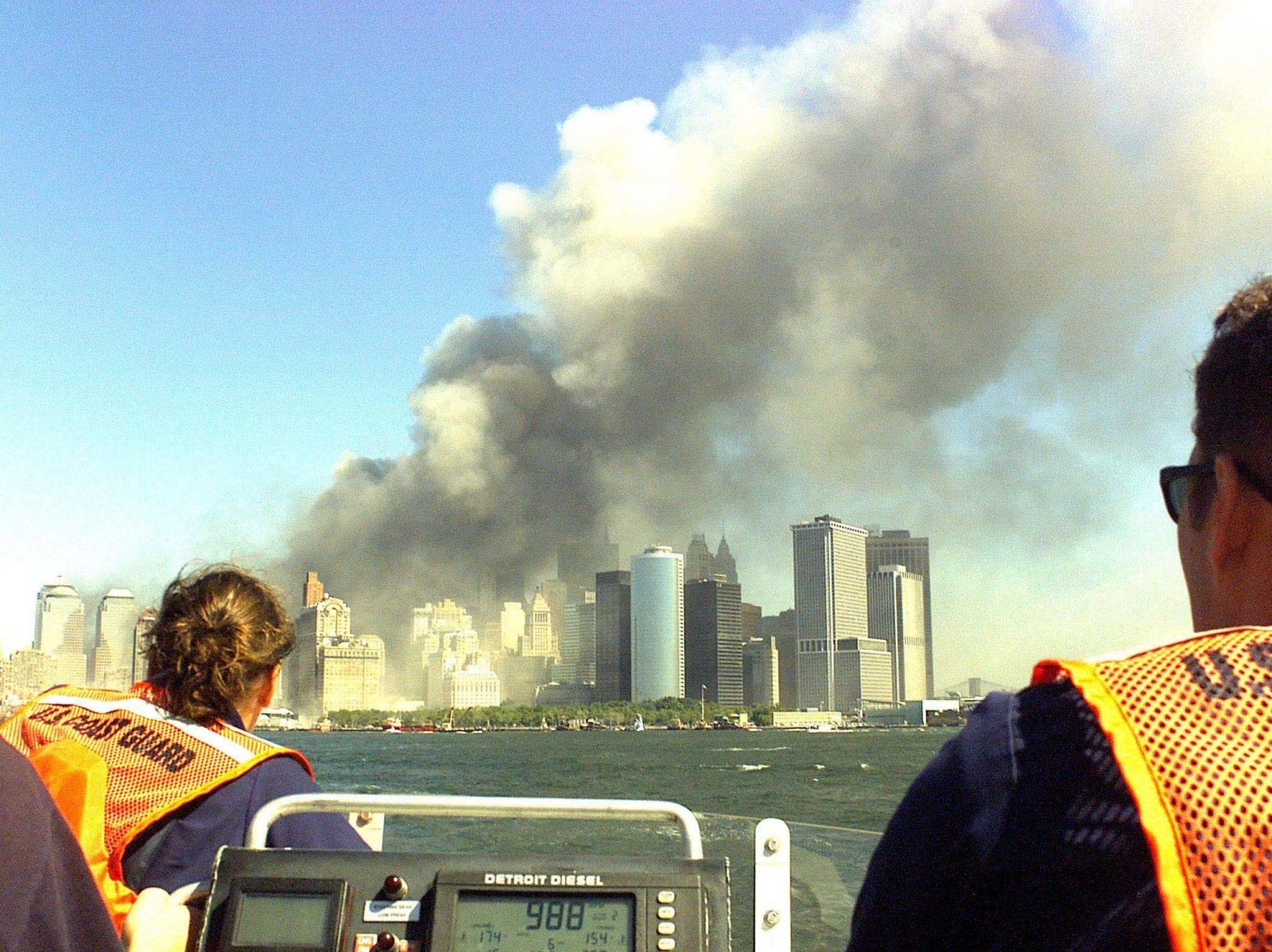 (Source: US Coast Guard) 
At this moment the Coast Guard knew they had to do something to help these people, and they had to do something fast. The Coast Guard made a call to all other boaters on the water asking for their help in evacuating civilians from the island. They were desperate for help, as they were simply unable to save every person looking to leave the island. Robin Jones, an engineer on one of the boats involved in the action said "Everyone was in shock running around. They didn't want to leave their families or their loved ones." The Coast Guard had no idea how many boats would arrive, or if their call for help would be effective.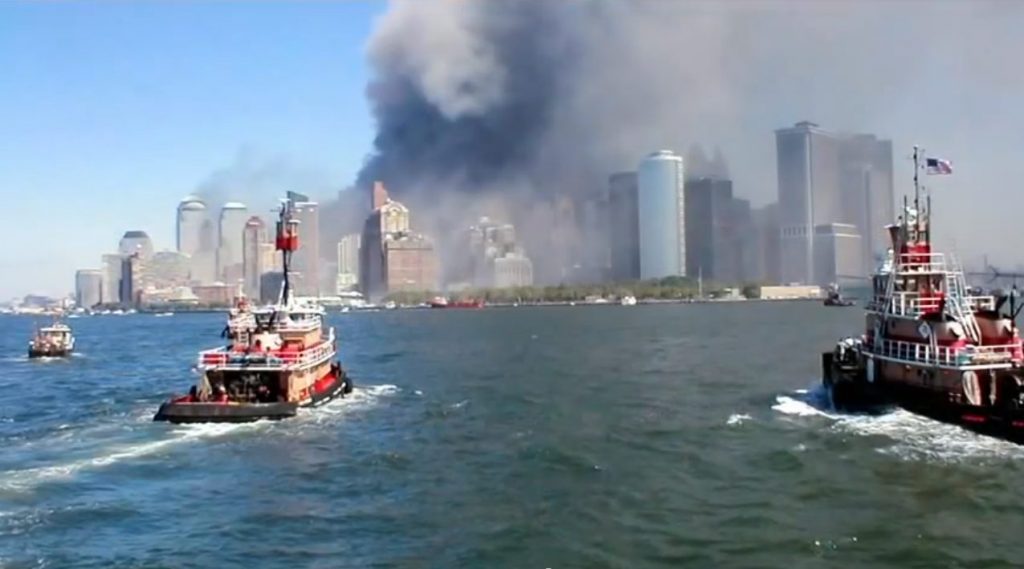 (Source: INSH) 
About twenty minutes after the call was made, there were hundreds of boats across the horizon looking to pick up civilians and do what they could to help anyone that they could.  Jones stated, "When that call came on the radio, they were coming… If it floated and it could get there, it got there."  These vessels included ferries, party boats, and private boats. People drove their boats into a fog of dark clouds, unaware of what to expect and if they would make it back to land. Paul Frank, a captain of one of the boats assisting in the evacuations, said "It was just low, dark smoke, black smoke. It was like there was a big chimney in Manhattan. When we pulled into Pier 11, the dust was unbelievable." Hundreds of boaters loaded as many people onto their vessels as possible in an attempt to evacuate them safely.
There are so many heroes from September 11th, 2001. New York City and the entire United States came together in a way that no one had ever seen before. Ordinary people saved thousands of lives. In fact, 500,000 people were evacuated from Manhattan in under nine hours. Looking back on that day, Jones said, "I worked on the water for 28 years, and I had never seen so many boats come together so fast." 9/11 showed that boaters are there for one another, and the boating community is a strong force of heroes. We are so thankful for all those who risked their lives on this day to save others, and we will always remember those whose lives were taken during the attacks.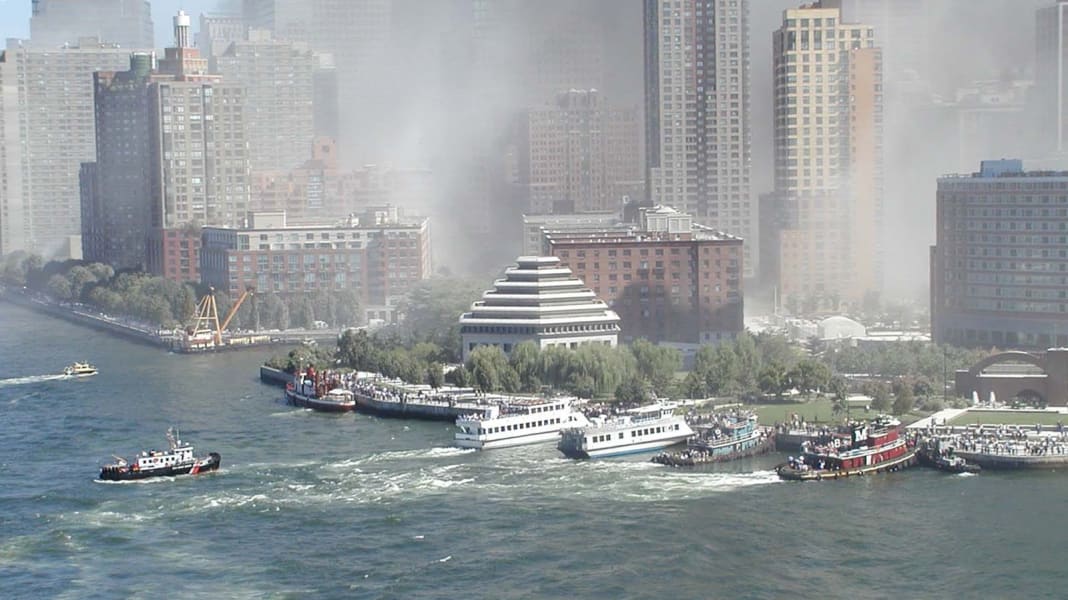 (Source: CNN) 
Off the Hook Yacht Sales has a proven process for both dealers and private sellers to liquidate their used boats and trades immediately! We have been the industry leader in marine wholesale since 2012. If you are looking for a fast, fair and competitive number on your boat please click here!