Jul 18, 2023
Superyachts Featured in Movies
Superyachts have long been used as symbols of wealth, status, and luxury in films. Because yachts are not typically built for filming, one must be rented and, in some cases, specifically reproduced. As a result, many private superyachts have been specifically chosen to appear in films, increasing the yacht's value and fame. Here are some of the most opulent, magnificent, and stunning superyachts featured in movies…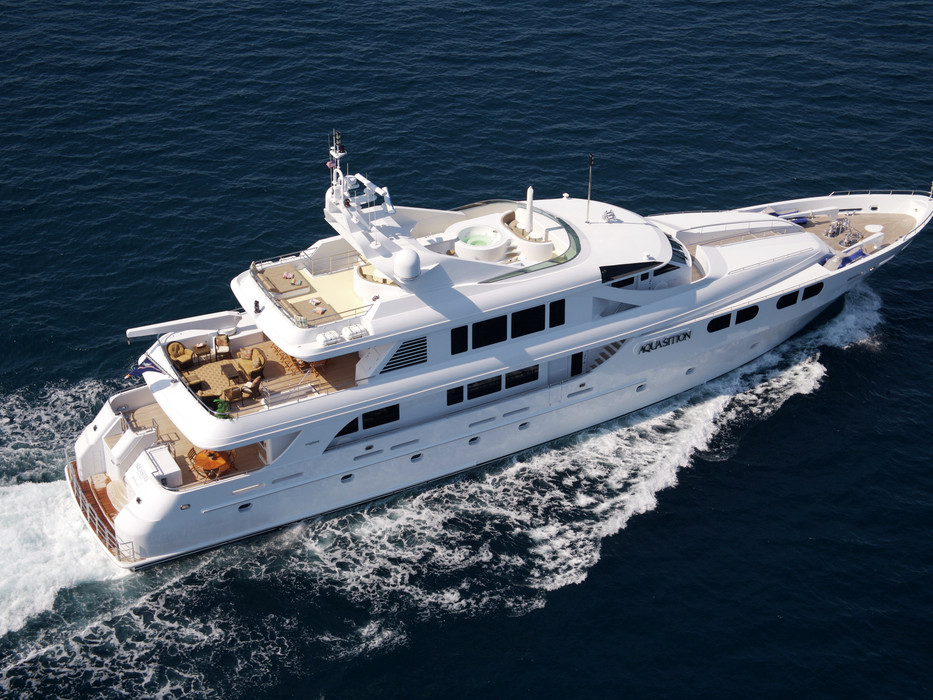 (Source: Yacht Charter)
M3 (ex. Lady M) – The Wolf of Wall Street
LOA: 147 ft
The superyacht was built in 2002 by the US yard Intermarine, with exteriors and interiors designed in-house by Daniella Speicht. M3 can accommodate 10 guests across 5 cabins, including a master suite, 1 VIP stateroom, 2 doubles, and 1 twin, with a beam of 29 ft and a draft of 8.2 ft. She is propelled by two 2,250 hp Caterpillar engines, allowing her to reach a top speed of 18 knots and a cruising speed of 15 knots.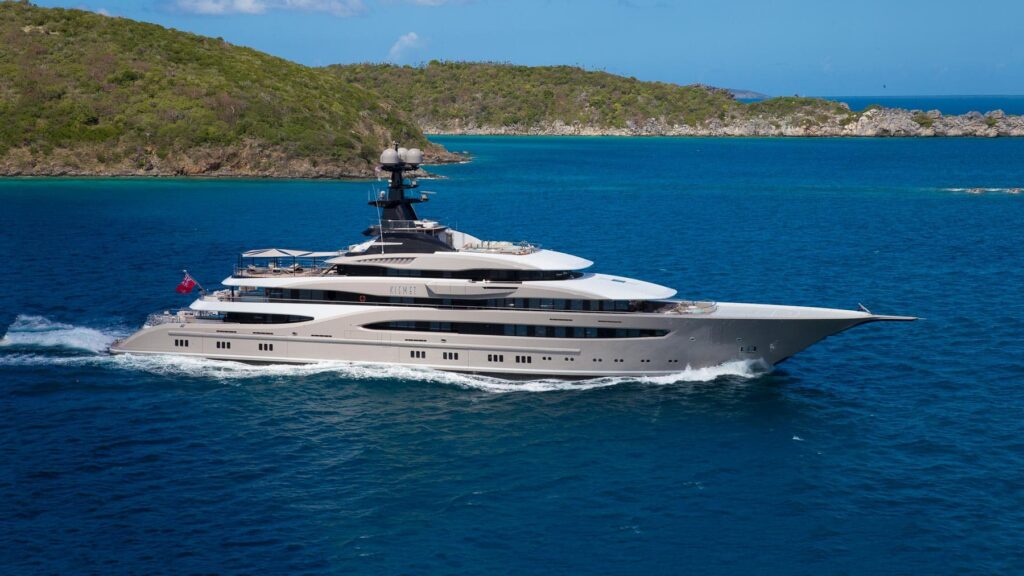 (Source: Moran Yachts)
Kismet – Six Underground
LOA: 312 ft
The German yard Lurssen's 312-foot motor yacht Kismet, built in 2014, plays a central role in Michael Bay's blockbuster, 6 Underground. The film has already set the record for the largest Netflix production. The streaming service invested USD 150 million in the production of the action film, which starred Ryan Reynolds, Melanie Laurent, Dave Franco, Manuel Garcia-Rulfo, Adria Arjona, and Corey Hawkins.
Kismet has five decks and was designed with corporate entertainment and charter in mind, making it suitable for parties of up to 270 guests. Kismet boasts video walls that can extend up to two decks high and can display regular television as well as high-definition moving artwork.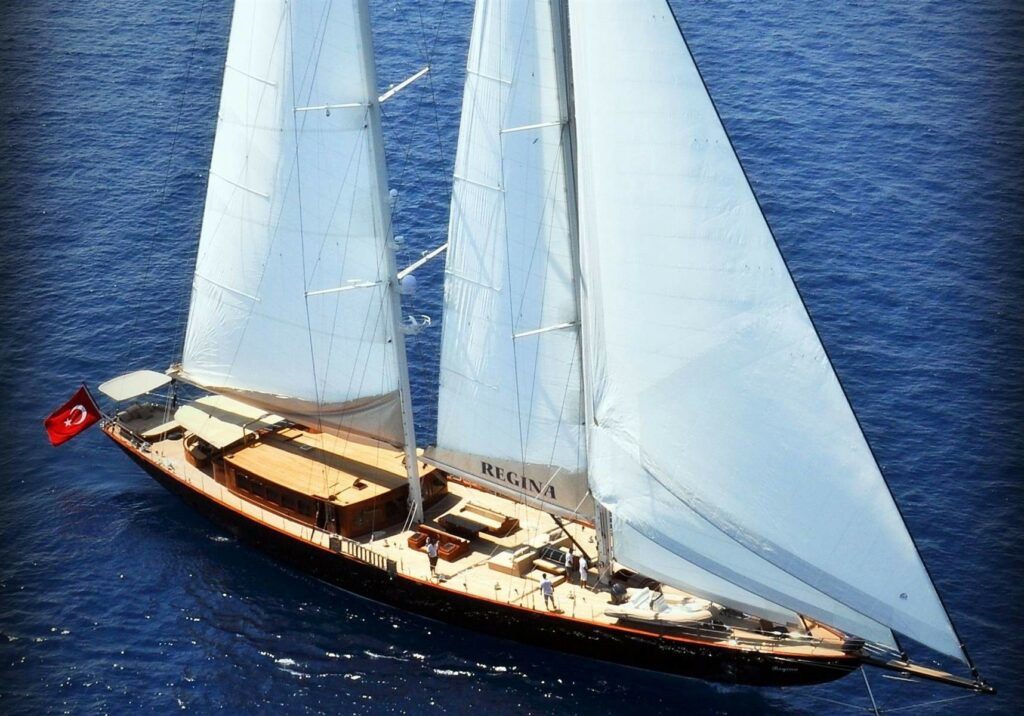 (Source: Charter World)
S/Y Aria I. (ex. Regina) – Skyfall
LOA: 184 ft
Originally known as REGINA, the 184 ft luxury schooner is now known as ARIA I starred in the 2012 James Bond film Skyfall alongside Berenice Marhole and Daniel Craig, and now it's your turn to appreciate the true beauty of this classic and elegant vessel. The steel schooner's interior and exterior designs were created by Aylin Ors and Ayberk Apaydin, respectively. She has two 440 horsepower MAN engines that allow her to reach a top speed of 12 knots. Six cabins on the Aria I can hold a total of 12 passengers.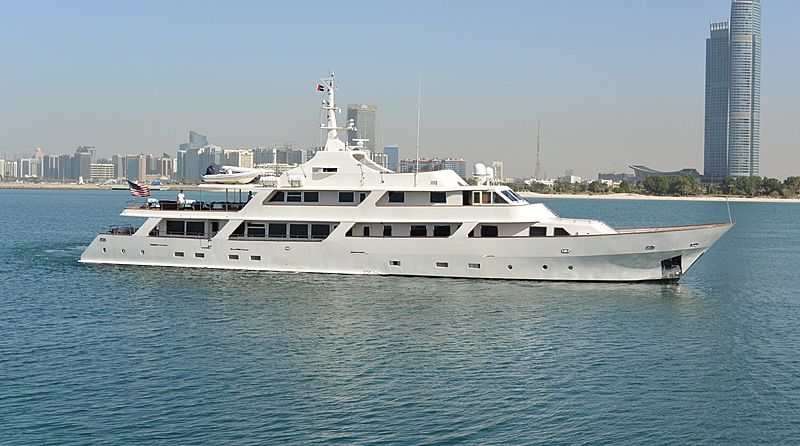 White Knight – The Bourne Identity
LOA: 153 ft
The Bourne trilogy's opening spy thriller, "The Bourne Identity," featured the superyacht. Jason Bourne appears in a few flashback scenes aboard White Knight, and a few interior shots can be seen just before Bourne jumps off the boat and floats away in the water after being shot. The classic displacement yacht White Knight, which can sleep up to 12 guests, was built in 1985 by Astillero Jorge R. Chediek and underwent a complete refit in 2000. White Knight can travel at a top speed of 16 knots and a cruising speed of 14 knots thanks to two 1325 hp General Motors engines.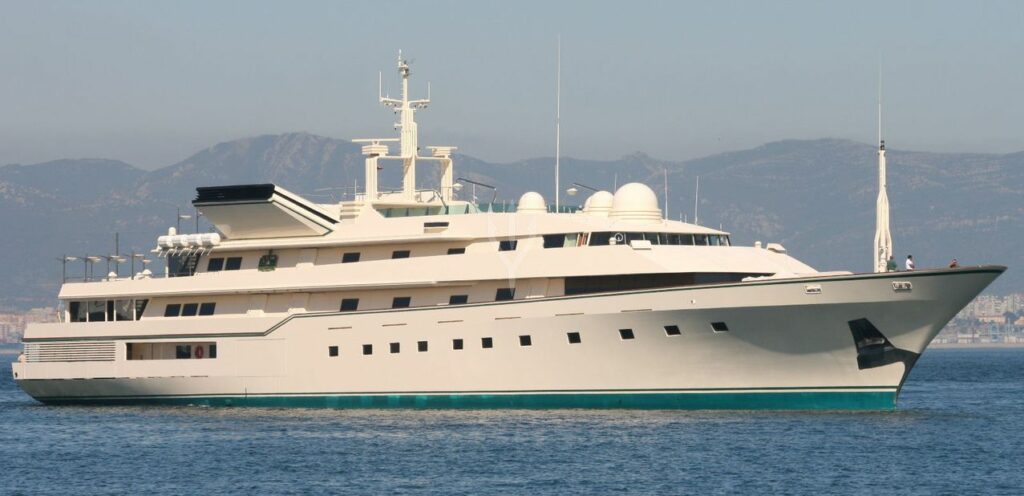 (Source: Yacht Charter)
Kingdom 5KR (ex. Sultan) – Never Say Never Again
LOA: 282 ft
Last but not least, the 86-meter superyacht Kingdom 5KR appeared in "Never say never again," another James Bond film. The movie's Flying Saucer, the floating headquarters of Ernst Stavro Blofeld's arch-enemy, was represented by the ship. Kingdom 5KR, the yard's flagship and the eighth-largest superyacht in the world, was launched by Benetti in 1980. Originally known as Nabila, she was Luigi Sturchio's creation and was Benetti's largest ship until the 295 ft Lionheart was introduced in 2016.
The superyacht has five decks, a disco, a movie theater with 12 seats and two double beds, 11 opulent suites, a helipad on top (its funnels are sloped outward to avoid interference with the helicopters), a pool with a water jet on top in front of the heliport, two Riva tenders, a crew of 48, a top speed of 20 knots, and a cruising speed of 17.5 knots.