Dec 8, 2020
Stranded Florida man gets rescued by cargo ship
A Christmas miracle came early for 62-year-old, Stuart Bee. He was about 86-miles off the coast of Port Canaveral, according to the US Coast Guard officials when the 225-foot motor vessel Angeles found him clinging to the bow of his capsized boat and rescued him.
"Saving lives at sea is our highest calling. This is a truly incredible outcome that demonstrates the bond among all mariners and our community," the USCG Southeastern wrote on Twitter on November 29th.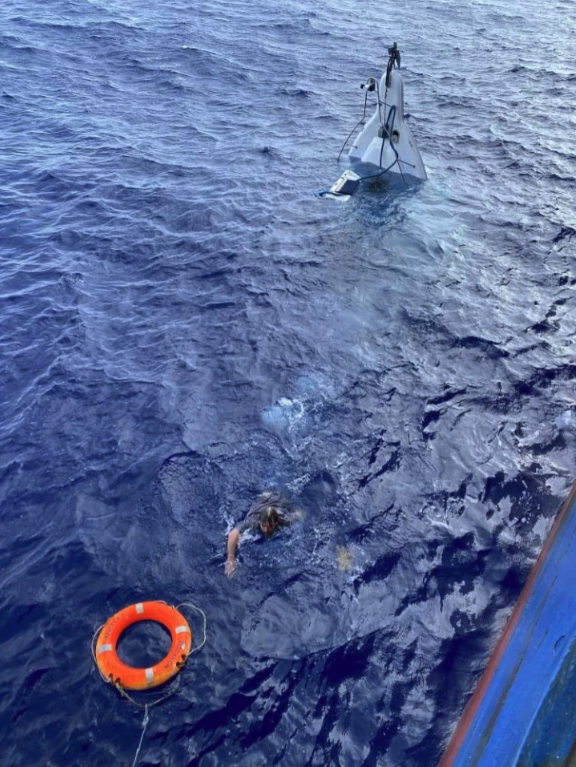 (Credit: Twitter/@USCGSoutheast)
According to reports, Bee left Cape Marina at Port Canaveral in Florida about 4 p.m. Friday, November 27, aboard the 32-foot Sea Ray, Stingray, that he apparently lives on. He was reported missing shortly before noon Saturday by a marina member who told U.S. Coast Guard officials that Bee does not normally stay out overnight.
The Coast Guard had put out an alert Saturday evening that Bee was missing. A search was conducted by both the Coast Guard and U.S. Customs and Border Patrol.
Petty Officer 1st Class David Micallef, a spokesperson for the U.S. Coast Guard, told Florida Today that Bee's boat became disabled because of a mechanical problem.
"I was out there stargazing," Bee said. "It was beautiful. And I fell asleep and the water came gushing in, pushed me out to the front."
Bee, the stranded Florida man, said he was able to get out through the front hatch and he hung on to a few floating cushions. He said his boat didn't sink, but because he was not sure if the boat was going to sink he held on to the floating cushions.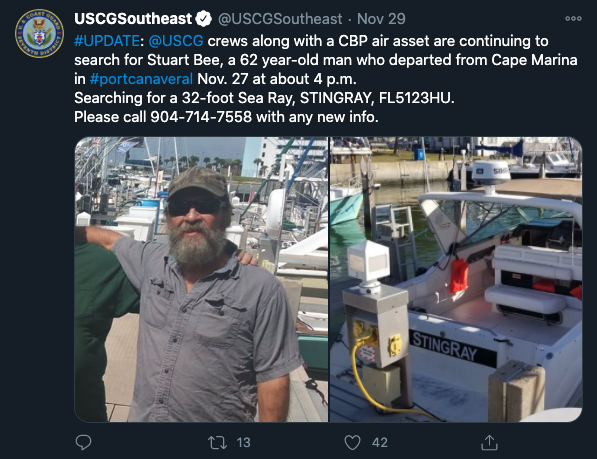 (Credit: Twitter/@USCGSoutheast)
"For a minute there I was thinking, 'this is very bad,'" Bee said Tuesday. "There is no one around and I was thinking what I could do to get help."
After about three hours of hanging on to the cushions, Bee decided to head back into his boat to retrieve something to help him get rescued.
"About three or four times I swam back into the boat, trying to retrieve it, but I couldn't," he said. "I was prepared to continue to try that until I could get it but that's when I saw the Angeles on the horizon – just as a dot."
He said he watched the ship for about 15 minutes when he realized it was coming toward him.
That's when he took off his shirt and waved it several times for about 45 minutes, he said, as the boat got closer.
"It blew its horn and since nobody was around, I figured that was a signal that they were on watch and they saw me," Bee said.
Bee said the entire Angeles crew had this sense of joy after finding him.
"For me though, it went from a major concern to suddenly feeling of relief," Bee said. "Calmness. I was just relieved. 'This is over. This is not going to turn out bad after all.'"

(Credit: Twitter/@USCGSoutheast)
Sources:
Reporting from The USA Today Network
Delaware Online
Orlando Sentinel
We Buy Boats
We pride ourselves on a sense of urgency and fair wholesale offers based on the true market value of your vessel. We have a proven process for both buyers and sellers to liquidate their used boats and trades immediately upon contact. We have been the trusted industry leader in wholesaling boats since 2012, and we plan on keeping this strong reputation for many years to come. Fill out the form below and get the wholesaling process started today!