Aug 6, 2020
Southport, NC Relief Fundraiser
Off the Hook Yacht Services wants to help the City of Southport, NC by raising $5,000.00 to give back to their community by donating to the Southport C.A.R.E.S organization. After the disaster of Hurricane Isaias earlier this week and the present pandemic going on, we want to contribute the efforts into re-building the marinas that were impacted and to the community to get back on their feet. Southport and the surrounding cities rely heavily on tourism and while COVID-19 has been lingering, many activities have had to be cancelled, for instance, the North Carolina Fourth of July Festival, which attracts 40,000 – 50,000 visitors annually.
Your donations will help the marinas, families, and businesses affected by Hurricane Isaias and the pandemic.
Donate Now!
People look over their home in Oak Island, N.C. after Hurricane Isaisas came ashore late Monday Aug. 3, 2020 in Brunswick County as a category 1 hurricane. The storm caused damage along all of the southern beaches like Ocean Isle Beach, Holden Beach, Oak Island and Southport. [KEN BLEVINS/STARNEWS]
About Southport C.A.R.E.S
We are an independent 501c3 non-profit formed solely for the purpose to help those in need in our community get back on their feet. We are 100% volunteer with no overhead, allowing us to put every dollar donated towards our cause. While we are not associated directly with the City of Southport,our board is made up of members from Southport Police, Fire and Rescue and a City Alderman who wanted to make a difference in our community that went beyond traditional efforts, and to also rally the community around the people we see in need and show them that the community is there for them when they are down on their luck.
Donate Now!
Hurricane Isaias and Southport Marina
Southport Marina, in particular, took the brunt of Hurricane Isaias on Monday Evening. In Southport, from power outages, to debris on the streets, to major damage at the marina, residents were shocked when they walked outside Tuesday morning.
David Crumpler, who lives Southport and also has a boat docked at the marina, says he doesn't even know how they're going to move the boats out of the water, or how long it will take.
"Totally unexpected," Crumpler said. "Caught everybody off guard."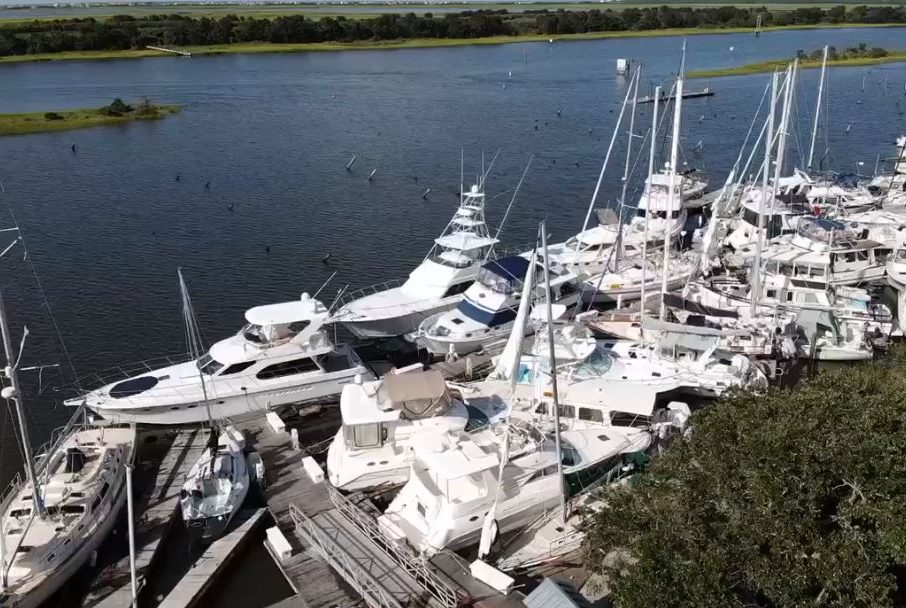 Southport Marina is closed off until further notice. Boats, docks and other pieces of equipment in the water are now sitting in piles, and some pieces of the docks were even blown onshore.
The manager of the marina says they've been in clean-up mode since the early morning hours Tuesday, calling the scene horrific and painful to see.
Other parts of Southport took quite a hit as well. Dozens of bricks from a building downtown on Moore Street were toppled onto the sidewalk. Provision Company and several restaurants down by the water were also pummeled with water from the storm surge.
Southport, NC needs our help and we hope our fellow boating community can help us in making a difference! Thank you!
Boats are stacked on top of each other in the Southport Marina Tuesday Aug. 4, 2020 in Southport N.C. after Hurricane Isaias came ashore overnight in Brunswick County as a category 1 hurricane. [KEN BLEVINS/STARNEWS]
Off the Hook Yacht Services – What We Do!
Off the Hook Yacht Services specializes in exceptional yacht service, repair, and refit in all departments for both power and sail. If your boat was affected by Hurricane Isaias, please explore our capabilities and contact us for an estimate.
Visit our GoFundMe page today. Even if you cannot make a donation we ask that you could please share it to your social following. We appreciate your consideration and have a nice day.
Donate Now!