Nov 24, 2020
Off the Hook Yachts Listed as one of the Top 100 Boat Dealers
Boating Industry announced its 2020 Top 100 dealers during an unprecedented virtual celebration on Nov. 17, 2020.
"In our 16th year of recognizing the Top 100, things are certainly different, but one thing remains the same, the dealers on the Top 100 list just keep getting better," said Top 100 program director Adam Quandt. "Most importantly every dealer on this year's Top 100 continuously pushes itself to be better, to make the entire industry better and get people out enjoying the water."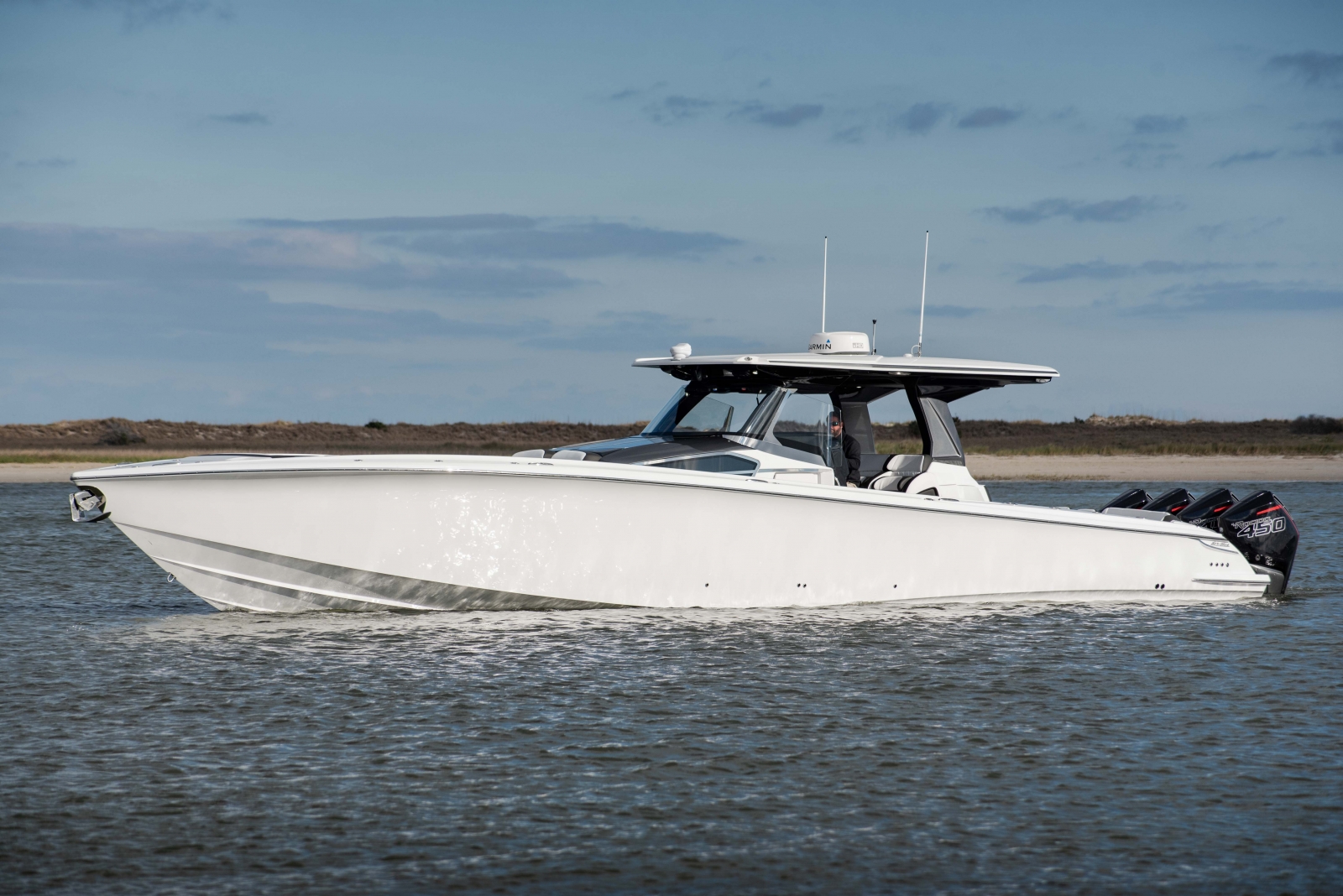 The Top 100 is the only independent ranking of boat dealers in North America.
The list recognizes dealerships that are unsurpassed in business operations, professionalism, marketing tactics, customer service and more. The Boating Industry Top 100 has recognized the top dealers in North America every year since 2005.
THE BOATING INDUSTRY 2020 TOP 100
As in past years, the Top 20 members of the Top 100 were ranked, with the remaining 80 being recognized as Top 100 dealers. 
For complete coverage of the 2020 Top 100, be sure to check out the December 2020 issue of Boating Industry.
The 2020 Boating Industry Top 100 was sponsored by the Leadership Alliance: Dealer Profit Services and Kicker Marine Audio.
The complete Top 100:
Quality Boats of Tampa Bay – Clearwater, Fla.

Marine Connection – West Palm Beach, Fla.

Regal & Nautique of Orlando – Orlando, Fla.

M & P Mercury Sales Ltd – Burnaby, B.C.

BMC Boats – Longwood, Fla.

Marine Sales Group, Inc. – Memphis, Tenn.

Futrell Marine – Hot Springs, Ark.

Buckeye Sports Center – Peninsula, Ohio

Marina Holdings LLC – Yarmouth, Maine

Hampton Watercraft & Marine – Hampton Bays, N.Y.

Nautical Ventures Group – Ft. Lauderdale, Fla.

Riverside Marine Inc – Baltimore, Md.

Spicer's Boat City –  Houghton Lake, Mich.

Legend Boats – Whitefish, Ontario

The Boat Shop – Tafton PA.

Atwood Lake Boats, Inc. – Mineral City, Ohio

River Valley Marine – Red Wing, Minn.

Atlantic Outboard, Inc. – Westbrook, Conn.

Dockside Marine- Houston, Texas

Spring Brook Marine, Inc – Seneca, Ill.
 Alberta Marine – Nanton, Alberta
 Angler's Choice Marine – Martinsville, Va.
 Bent Marine LLC – Metairie, La.
 Blue Springs Marine – Blue Springs, Mo.
 Boaters Exchange – Rockledge, Fla.
 Boulder Boats – Henderson, Nev.
 Breath's Boats & Motors – Bay Saint Louis, Miss.
 Bryan's Marine – Vidalia, La.
 Buster's Marine – Broad Channel, N.Y.
 Castaway Yacht Sales – Port Clinton, Ohio
 Causeway Marine Sales, LLC – Manahawkin, N.J.
 Charles Mill Marina – Mansfield, Ohio
 Charlotte Ski Boats – Mooresville, N.C.
 Chesapeake Whalertowne – Grasonville, Md.
 Chessie Marine – Elkton, Md.
 Clark Marine – Manchester, Maine
 Clemons Boats – Sandusky, Ohio
 Colony Marine – St. Clair Shores, Mich.
 Current Watersports – Cincinnati, Ohio
 Deep Creek Marina – McHenry, Md.
 Desmasdon's Boat Works/ Beacon Marine – Pointe au Baril, Ontario
 Don's Marine, LLC – Lodi, Wis.
 Dry Dock Marine Center – Angola, Ind.
 FB Marine Group – Fort Lauderdale, Fla.
 Gage Marine – Williams Bay, Wis.
 Gibbons Motor Toys – Gibbons, Alberta
 Gordon Bay Marine – Muskoka, Ontario
 Grand Pointe Marina – Dimondale, Mich.
 Great Outdoors Marine – Lavalette, W.V.
 GREGG ORR MARINE – Hot Springs, Ark.
 Harborside Marina & Yacht Sales – Clinton, Conn.
 Jerry's Majestic Marine, Inc. – Lake Geneva, Wis.
 Jet Ski of Miami/Fisherman's Boat Group – Miami, Fla.
 Lakeside Motor Sports – Mecosta, Mich.
 Lincolnton Marine, Inc. – Lincolnton, Ga.
 Lynnhaven Marine – Virginia Beach, Va.
 Maple City Marine – Chatham, Ontario
 Marine Center of Indiana – Indianapolis, Ind.
 Marine Specialties Boat Sales & Service – Sparks, Nev.
 Mark's Leisure Time Marine – Conesus, N.Y.
 Mark's Marine, Inc – Hayden, Idaho
 Miami Nautique International – Miami, Fla.
 Midwest Water Sports – Crystal, Minn.
 Minnesota Inboard Water Sports – Excelsior, Minn.
 Munson Ski & Marine – Round Lake, Ill.
 N3 Boatworks – Indianapolis, Ind.
 Nobles' Marine – Leesburg, Fla.
 Ocean House Marina – Charlestown, R.I.
 Ocean Marine Group – Ocean Springs, Miss.
 Off The Hook Yacht Sales – Wilmington, N.C.
 Omaha Marine Center – Omaha, Neb.
 Orleans Boat World – Orleans, Ontario
 Paris Marine Limited – Selwyn, Ontario
 Pasadena Boat Works – Pasadena, Md.
 Plantation Boat Mart – Islamorada, Fla.
 Pocket Yacht Company – Grasonville, Md.
 Rayburn's Marine – Kelowna, B.C.
 Reeder Trausch Marine – Rockville, Ind.
 Rhode River Boat Sales – Edgewater, Md.
 Richardson's Boat Yard – Standish, Maine
 Rinkers Boat World – Houston, Texas
 River City Boat Sales – Portland, Ore.
 Sea Ray of Cincinnati/Louisville – Cincinnati, Ohio
 Shipyard Marine – Green Bay, Wis.
 Short's Marine, Inc. – Millsboro, Del.
 Silver Spray Sports Inc. – Fenton, Mich.
 South Florida Marine – Boynton Beach, Fla.
 Starboard Marinas/The Harbor – Branson, Ma.
 Table Rock Boats – Kimberling City, Mo.
 Taylor Marine Center, Inc. – Milford, Del.
 Tobler Marina – Hayden, Idaho
 Town & Country Marine – Lakefield, Ontario
 Travis Marine – Knoxville, Tenn.
 Vallely Sport & Marine – Bismarck, N.D.
 Vincent Payne Marine Ltd. – Pointe au Baril, Ontario
 WakeSide Marine – Elkhart, Ind.
 Walstrom Marine – Harbor Springs, Mich.
 Watercraft Sales – Three Lakes, Wis.
 White Lake Marine – Elizabethtown N.C.
 Y Marina, Inc. – Coos Bay, Ore.
(Source: Boating Industry: "Boating Industry names 2020 Top 100 Dealers")
Congratulations to all of the dealers who were named the Top 100 Boat Dealers!
We pride ourselves on a sense of urgency and fair wholesale offers based on the true market value of your vessel. We have a proven process for both buyers and sellers to liquidate their used boats and trades immediately upon contact. We have been the trusted industry leader in wholesaling boats since 2012, and we plan on keeping this strong reputation for many years to come. Fill out the form below and get the wholesaling process started today!