Jan 22, 2021
How Boating Can Improve Well-Being
Have you ever wondered why you feel so happy and relaxed after you get off your boat? We know we say this all the time, but boating truly got our team and the whole boating community through the stress and uncertainty of the pandemic over the past year. One of the greatest books to read if you want to learn more about this subject is Blue Mind by Dr. Walter J. Nichols, Ph.D. He talks about how the mere sight and sound of water promotes wellness by lowering cortisol, increasing serotonin and inducing relaxation. It only makes sense that being on a boat is one of the best ways to access the wellness benefits of the water. Here are some of the greatest lessons that we learned from the book and how boating improves your overall well-being!
RED MIND, BLUE MIND
In the book, Nichols dives deeply into the concept of Red Mind and Blue Mind. Nichols defines Red Mind as "edgy-high, characterized by stress, anxiety and fear." Some things that can create a Red Mind include obvious things like stress and relationships but also include things in our daily lives that we do not even consider as "stress". These factors can include the office, traffic, television noise, and computer screens.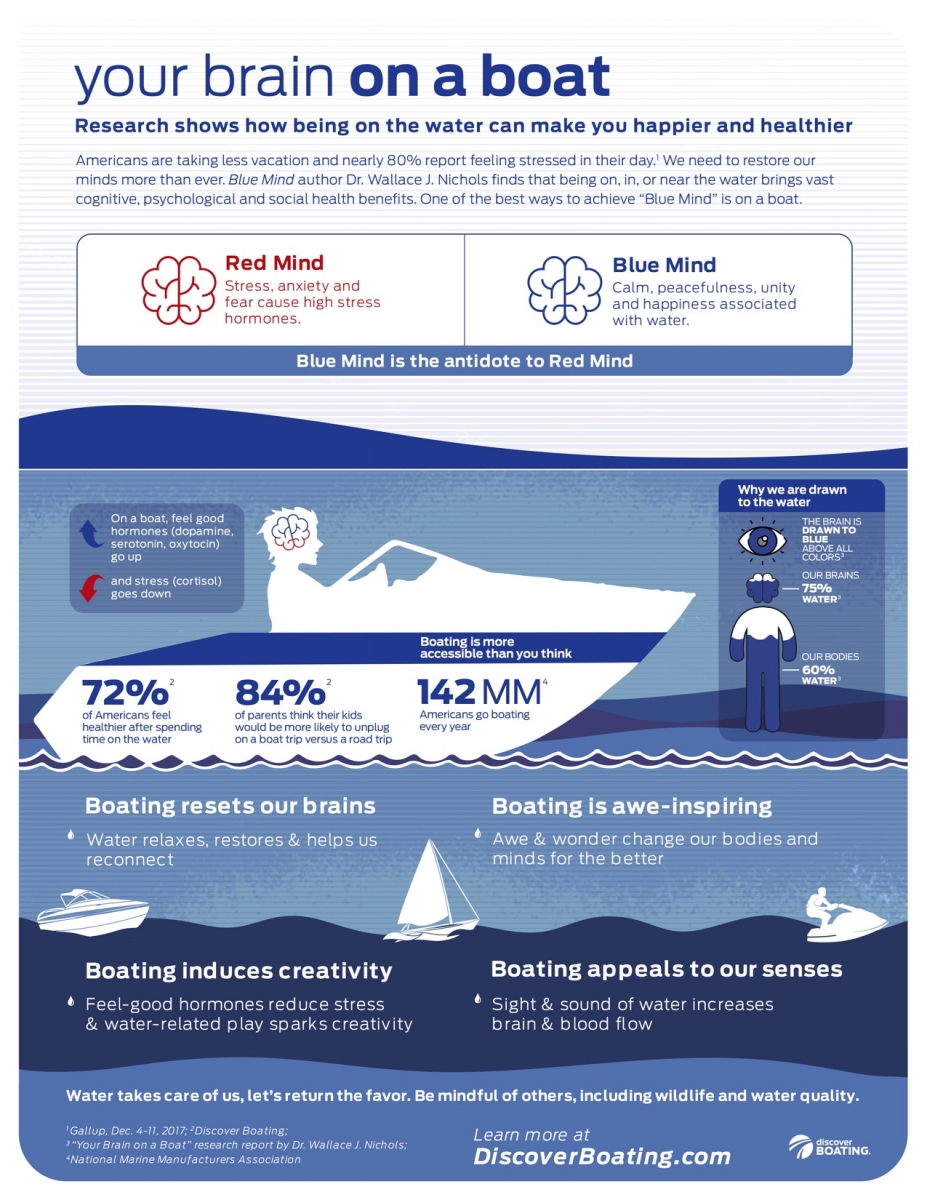 (Image: DiscoverBoating.com)
The opposite of a Red Mind is a Blue Mind. Nichols defines Blue Mind as "a mildly meditative state characterized by calm, peacefulness, unity, and sense of general happiness associated with water." This explains why sometimes even if you are not necessarily under pressure a day on the water sounds irresistible.
YOUR BRAIN ON A BOAT
Boating triggers a restful and relaxing state of mind. Being on your boat causes physiological and psychological changes spanning health, wellness, awe, wonder, creativity, play, happiness and relaxation.
One of the best things about boating is that it literally resets your brain. Typically people will take a vacation in order to find mental clarity and come back with a fresh slate, but in 2021 it seems as though travel may still be limited. Hitting the water (even just for a few hours) will leave you with a restored mind and sense of well-being without having to travel far from home. Although boating is extremely relaxing and meditative, it also promotes play and creativity. This is because stress can inhibit creativity, making it hard to excel in work and any other activities.
Lastly, The sight of water can induce a flood of neurochemicals that promote wellness. A lifelong relationship to water, facilitated through boating, brings cognitive, emotional, psychological, social and spiritual benefits for people of all ages and abilities. No wonder why the brain is most drawn to the color blue!