May 9, 2019
Five New Custom Boats from Jarrett Bay!
Custom Carolina Sport Fishing Boats
Jarrett Bay has been operating for more than twenty years on the coast of North Carolina. Founder Randy Ramsey had the vision to build superior boats with higher speeds, sleeker aesthetics, and pristine finishing touches. This vision is continuously shown when they release new builds. They get their excellent reputation from their craftsmanship from engineering, interior designers, welders, painters, etc. All of these dedicated workers make it possible for them to build so many custom boats each year. Below are some of their most recent builds that are currently in progress.
Reel Development
'Reel Development,' is on its way to completion with the help of many passionate, determined engineers. The expected release date is August 2020. Reel Development, is built with a figured high gloss, cherry veneer finish on the exterior to the interior. She will have five staterooms with each having their own private head, with an additional day head located on the salon level. She is powered by twin MTU 16V-2000's and even features, not one, but two, Seakeeper gyro stabilizers plus two 38kW Northern Light generators. We can't wait to see her when she's complete!
Jarrett Bay 64′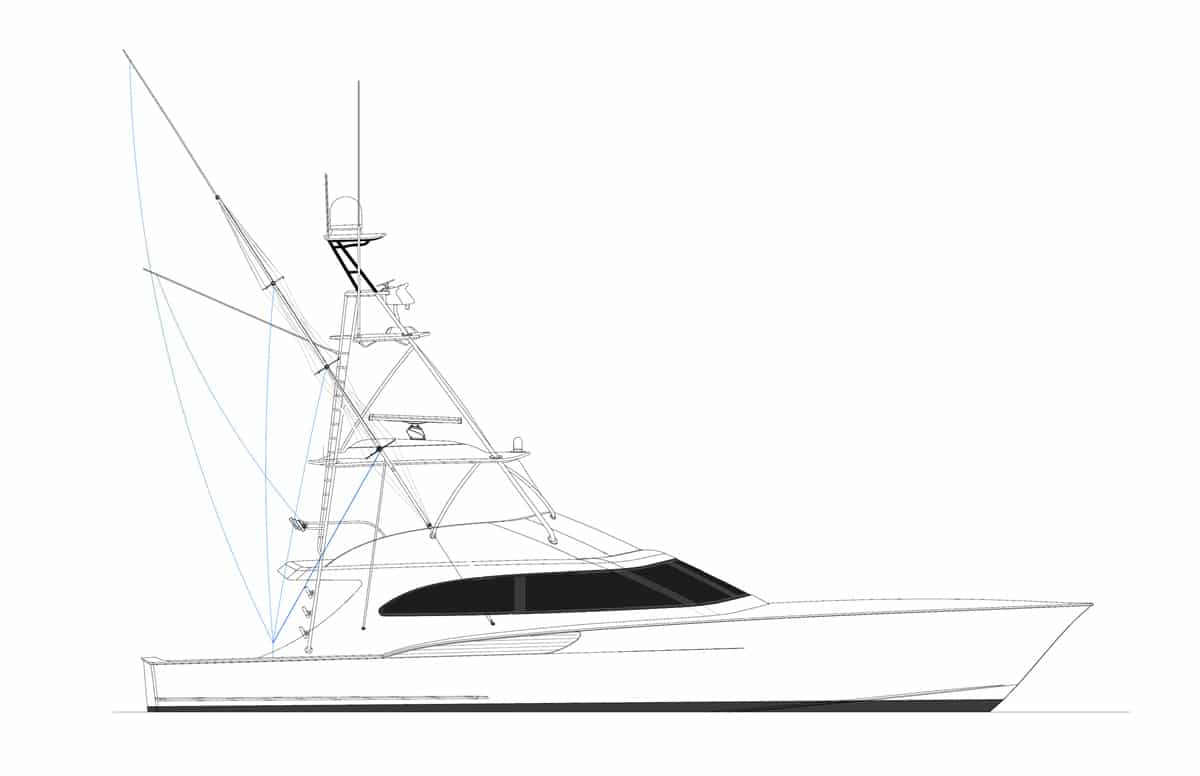 The Jarrett Bay 64' has become a prevalent length range for their custom fleet. This 64-foot yacht, also known as Hull #65, was drafted up based on the idea of the tournament-winning Hull #59 "Builders Choice." New owners have the option to either mock the Hull #59 design or to work with engineers to customize the boats layout to their preference. She is currently for sale! If you are in the market for a custom 64-foot fishing boat I wouldn't hesitate and would call them today!
Project Caribbean
The third boat part of this custom fleet is called, 'Project Caribbean.' From the sounds of it, I think we all know where this boat is headed? To the warm, shallower waters of the Caribbean. Her length runs at 68 feet and 8 inches with a draft of 5 feet and 4 inches. Her hull is finally complete and she is ready for the next phases of construction. Project Caribbean is not only going to be a great yacht for fishing, but for leisure activities as well. Release date is unknown.
Sea Wish
'Sea Wish,' also called Hull 66, is a 67 foot 6-inch Sport Fish with a draft of 5 feet and 4 inches. She will be running with CAT C32 ACERT engines. She has many features including: satin and high gloss teak finishes throughout the interior, four staterooms, a full tower, and a pair of Seakeeper 9 gyros to help keep the boat from swaying in heavy seas. Her hull is completed and she is ready for the next phases of construction. Release date is unknown.
Renegade
The last Sport Fisher part of Jarrett Bay's custom fleet is called 'Renegade,' also called Hull 67, she is a 55 foot 6-inch yacht with a 4 foot 6-inch draft. She is featured with a Seakeeper 9 and powered by new MTU 10V Series 2000 engines mated to ZF 2050A gears. If you are looking for a fast, efficient, and steady Sport Fisher, you are in luck because 'Renegade' is just that.
Source: Jarrett Bay Boatworks
Off the Hook Yacht Sales has a proven process for both dealers and private sellers to liquidate their used boats and trades immediately! We have been the industry leader in marine wholesale since 2012. If you are looking for a fast, fair and competitive number on your boat please click here!