Apr 1, 2020
The U.S. Naval Hospital Ship, Comfort, Docks in New York
Help has arrived in the Big Apple!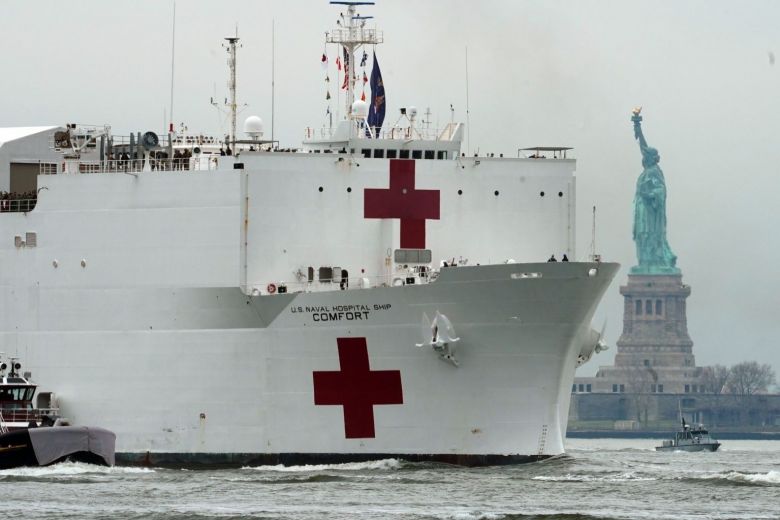 On Monday, March 30, 2020, the U.S. Naval Hospital Ship, Comfort, arrived in New York City at Pier 90 at Manhattan Cruise Terminal from Norfolk, Virginia. The naval ship's intention is not to hospitalize patients with active COVID-19, but its mission is to hospitalize patients with other medical conditions to relieve New York hospitals overrun by virus patients. Military authorities believe this is a good idea since large ships tend to show how fast a virus can spread in such confined quarters. Navy officials, aware that all it would take is one positive case to turn the Comfort from rescue ship to floating petri dish, insist that they are doing everything short of Saran-wrapping the ship to try to keep it virus-free.
"We will establish a bubble around this ship to make sure we're doing everything to keep it out," Capt. Joseph O'Brien, the commodore of Task Force New York City, said in an interview from the Comfort on Sunday.
That has meant almost sequestering the ship's crew of 1,200 for the past two weeks to lessen their chances of contracting the virus, he said. The ship closed its workout rooms days ago, and the crew members have been practicing social distancing — at least, as much as they can in the confined quarters of a ship.
On Saturday, March 28, 2020, before the "Comfort," set sail North, President Trump and Defence Secretary Mark T. Esper visited the naval ship from afar. President Trump spoke from a lectern at the pier, with the ship behind him, then waved as it went out to sea. Normally, the President and Defense Secretary would proceed by presenting on the ship, however, under these circumstances, the fear of contaminating the hospital ship outweighed the photo op.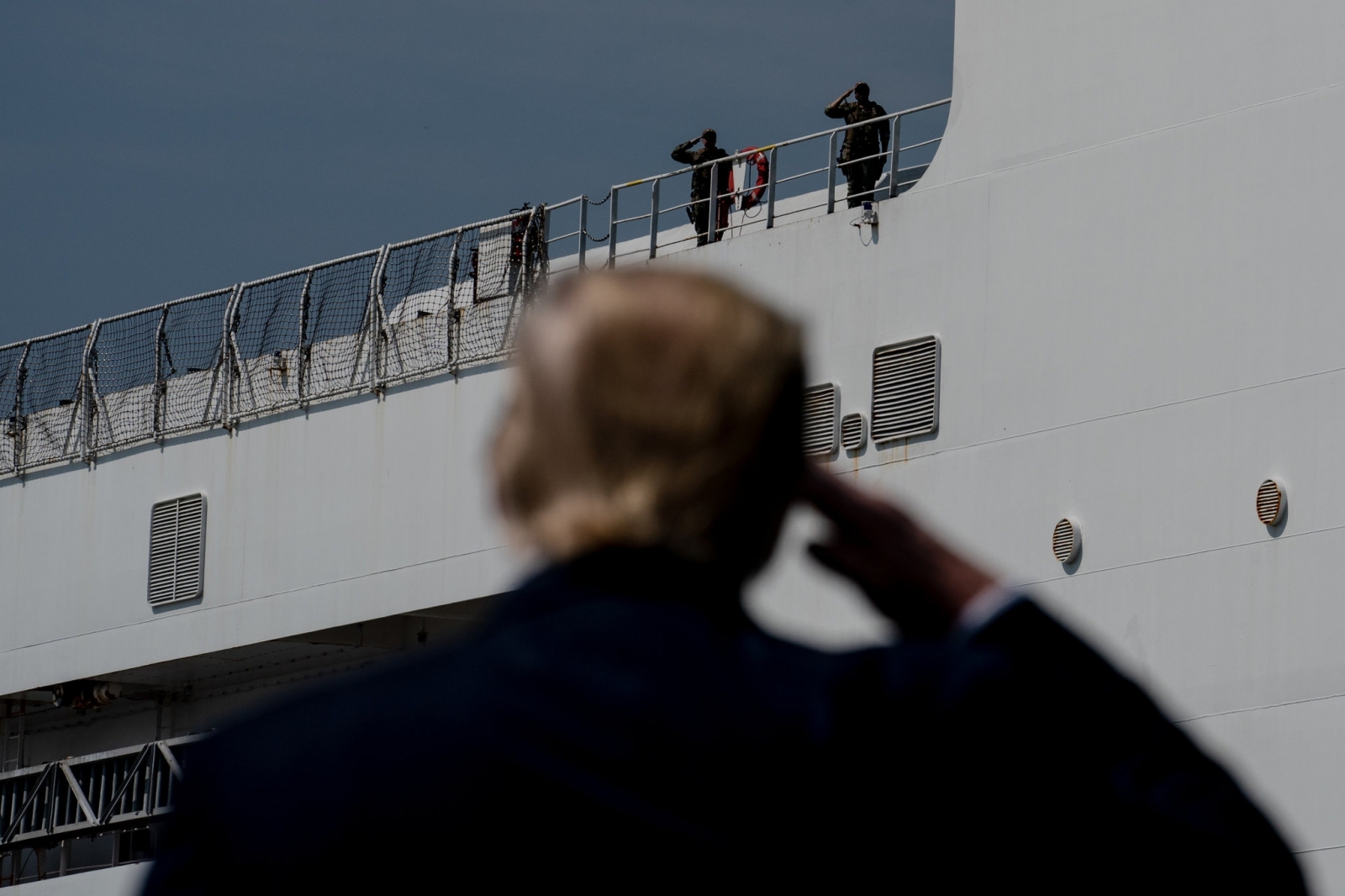 A command center at the Javits Center in Manhattan will dispatch non-coronavirus patients to the Comfort, officials said. There, the patients will be treated in the ship's massive wards, where beds, some of the bunk beds, are placed together.
Navy officials acknowledge that it will be extremely difficult, yet paramount, to ensure no one with coronavirus gets on board. The ship's crew will not be allowed off the ship; there will be no visits to Manhattan and of course no trips to bars or restaurants for takeout. Ship personnel will be doing temperature checks and scans and are still working on additional ways to screen patients before they are allowed on board, officials said.
Comfort's History
This is not the first time Comfort has set to sea to help people in need. It responded to the earthquake in Haiti in 2010 and showed up off the coast of New Orleans after Hurricane Katrina hit in 2005. It has even been to New York before, when, in the days after the September 11, 2001, terrorist attacks. It floated in the Arabian Sea during the Iraq war in 2003, receiving and treating injured Marines and soldiers. With 12 operating rooms, 1,000 hospital beds, radiology services, a laboratory, pharmacy, and CT scanner, the Comfort is its own floating hospital.
Source: The New York Times: Navy Hospital Ship Reaches New York. But It's Not Made to Contain Coronavirus.
Off the Hook Yacht Sales has a proven process for both dealers and private sellers to liquidate their used boats and trades immediately! We have been the industry leader in marine wholesale since 2012. If you are looking for a fast, fair, and competitive number on your boat please click here!